Bela Fleck and the Flecktones | Outbound
Banjo virtuoso and innovator BELA FLECK has always challenged himself with world influences and attitudes decidedly beyond the borders of mainstream genres. He does it again here, with Grammy winner Outbound, featuring guest visits from singer Shawn Colvin, high-voiced Yes-man Jon Anderson, pioneering guitarist Adrian Below and jazz keyboardist John Medeski. Also appearing are Tuvan throat-singer Ondar and Indian vocalist Rita Sahai. As wingmen, they help navigate Bela and his FLECKTONES through a musical journey of expansive sounds and ideas.
GRAMMY WINNER
Branford Marsalis | Contemporary Jazz
Following the death of pianist Kenny Kirkland, longtime associate Branford Marsalis assembled a quartet that aimed restoring a healing sense of completeness for his musical vision. Enter CONTEMPORARY JAZZ, a wryly titled album that earned the saxophonist a Grammy. Pianist (and Kirkland successor) Joey Calderazzo, bassist Eric Revis and drummer Jeff Tain Watts forged a bond that surveyed - and extended - the limits of group interplay.
GRAMMY WINNER
Randy Brecker with the Danish Radio Big Band
|
The Jazz Ballad Songbook
Trumpeter Randy Brecker, an emeritus statesman whose life in music spans six decades, forges a career record, exploring the contours of jazz's Great American Songbook in collaboration with the DR Big Band and the Danish National Chamber Orchestra. With lushly conceived charts penned by jazz's premier arrangers, including Grammy winner Vince Mendoza, THE JAZZ BALLAD SONG BOOK is both cinematic and intimate, reflecting perfectly the scope of Brecker's contribution to popular music. Evergreens include "Cry Me a River," "All or Nothing at All," "Someday My Prince Will Come" and "Skylark."
GRAMMY NOMINEE
Joe Lovano & the Brussels Jazz Orchestra | Wild Beauty
Following its triumphant partnership with pianist Kenny Werner (Institute of Higher Learning), the award-winning Brussels Jazz Orchestra turns its attention to Joe Lovano, long heralded a towering soloist among tenor saxophonists. Wild Beauty illuminates the composer side of Lovano's musicianship, featuring a palette of earthy tunes previously recorded with small groups, but now re-imagined for the 17-piece BJO. Gil Goldstein wrote the evocative arrangements.
GRAMMY NOMINEE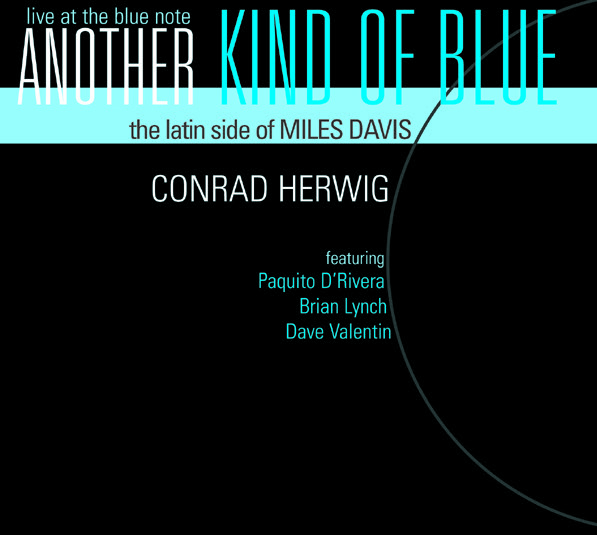 Conrad Herwig | Another Kind of Blue
Trombonist Conrad Herwig reimagines one of the seminal albums in jazz history - timeless compositions crafted and showcased within the framework of Afro-Cuban and Afro-Caribbean rhythms. It is a companion piece to his pathfinding release, The Latin Side of John Coltrane, and it finds him reveling in the company of featured bandmates who draw inspiration and energy from the spirit of Miles. Selections include the entire Kind of Blue repertoire - including "So What," Freddie Freeloader," and "All Blues" - plus bonus track "Petits Machins" from Miles's Filles De Kilimanjaro. Group members include Mario Rivera, Edsel Gomez, John Benitez, Robby Ameen, and Richie Flores.
GRAMMY NOMINEE
Gil Goldstein | Under Rousseau's Moon
UNDER ROUSSEAU'S MOON finds arranger and orchestrator GIL GOLDSTEIN reinventing works by Jaco Pastorius, Gil Evans, and selected members of his illustrious ensemble: Don Alias, Richard Bona, Randy Brecker, Mike Mainieri, Chis Potter, and The Zebra Coast String Trio. The title refers to the evocative and mysterious dream state portrayed in Henri Rousseau's painting, The Sleeping Gypsy.
GRAMMY NOMINEE
Conrad Herwig | The Latin Side of Joe Henderson
The "Latin Side..." turns its attention to saxophonist Joe Henderson, heralded as a
supreme composer and expressionist. With charts written by trombonist and group leader
Conrad Herwig, alongside pianist Bill O' Connell, the "Latin Side..." band lends vivacity to Henderson's best-known tunes, including one song he did not compose (though his connection to it runs deep), "Blue Bossa."
GRAMMY NOMINEE
Omar Sosa | Across the Divide
Across the Divide is a song cycle highlighting the shared rhythms and ancestry of Cuban pianist OMAR SOSA and New England multi-instrumentalist Tim Eriksen a specialist in native and adopted American musics. It is a narrative, a tale of musical and spiritual passage, drawn from the roots of our common cultures. It is folkloric music illuminating the slave traditions of the Middle Passage and yielding a path-finding hybrid – Latin Jazz, augmented by electronics, coupled with World and Americana influences.
GRAMMY NOMINEE
Donald Harrison | This IS Jazz
The power trio of DONALD HARRISON, RON CARTER and BILLY COBHAM declare themselves spokesmen for a kind of exploratory improvisation and interplay known only to seasoned jazz professionals. Staunch individualists all, they come together with a unified voice of alto, bass and drums - at once steeped in jazz's richly variegated traditions yet forward-thinking in the cause of new creative expression. The group play here is all about a
stylized call and response, featuring guys with excellent listening skills and the
means to keep the conversation compelling.
GRAMMY NOMINEE
Conrad Herwig | The Latin Side of Wayne Shorter
After successfully "latinizing" the music of jazz legends John Coltrane and Miles Davis, CONRAD HERWIG turns his attention to saxophonist Wayne Shorter, one of the most important jazz composers of the past half-century. The result is a fiery excursion into the world of Afro-Caribbean rhythms. Joining Herwig and his "Latin Side" band are two special guests - pianist pioneer Eddie Palmieri, and trumpeter Brian Lynch. Together they lend a spirit and authority unmatched among salsa aggregates. Featured tunes include "Footprints," "Masqualero," and "Adam's Apple."
GRAMMY NOMINEE
Kenny Werner assembles a new band, borne out of his desire to extend his reach and play alongside path-finding instrumentalists. Guitarist Lionel Loueke and altoist Miguel Zenon are two such individuals. Coupled with drummer Ferenc Nemeth and Danish saxophonist Benjamin Koppel, a true COALITION emerged. Werner's singular sensibilities may have initiated the group as his own, yet COALITION proves itself a rare manifesto on collaborative interplay.
Randy Brecker | The Brecker Brothers Band Reunion
The jazz fusion of The Brecker Brothers defined the deep pockets of funk groove and virtuosic play. Even after saxophonist Michael Brecker passed in 2007, brother and trumpeter Randy Brecker continued to expand the style and attitude they patented. THE BRECKER BROTHERS REUNION BAND assembles bandmates who help deliver that message with celebratory brio: Mike Stern. Dave Weckl. George Whitty, Ada Rovatti, Dean Brown, Adam Rogers, Mitch Stein, Rodney Holmes, Chris Minh Doky, Dave Sanborn, and Oli Rockberger.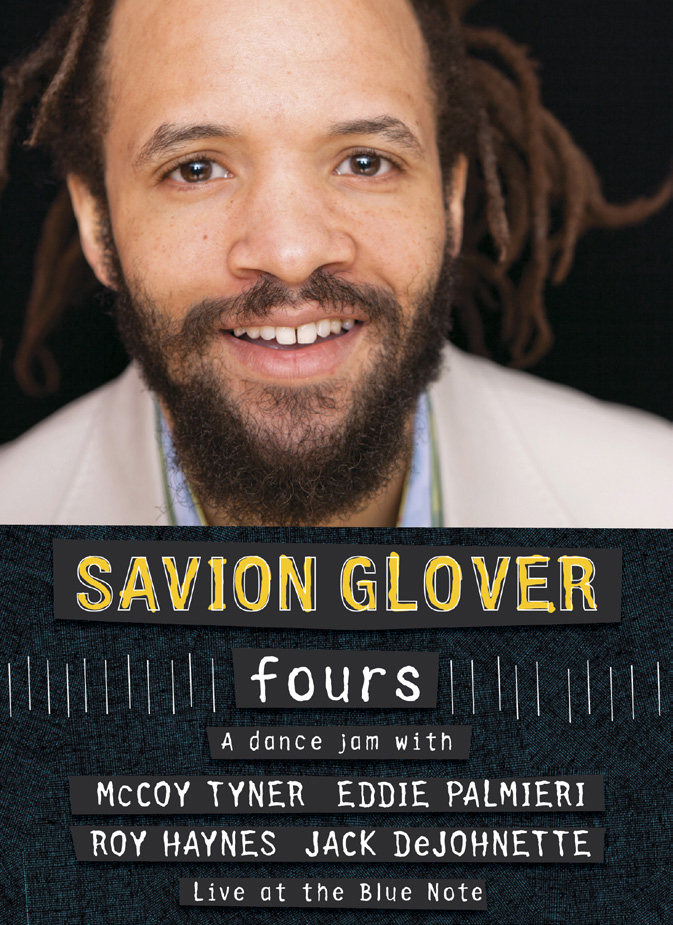 Universally regarded as the best tap dancer on Earth (though only 39 years old, at this writing), SAVION GLOVER showcases his musical side by jamming with jazz royalty. Over the course of an hour-long DVD featuring interview footage and 4 separate jams - one each with McCOY TYNER, EDDIE PALMIERI, ROY HAYNES and JACK DEJOHNETTE - Savion spars tirelessly, treating viewers to a clinic on rhythmic improvisation. It is a remarkably athletic performance in which he shifts from soloist to accompanist and back, challenging and reacting to his mentors with a searching, spiritual demeanor emblematic of jazz's greatest instrumentalists. The DVD is an eyeful. He illuminates the sheer joy of dance while reaffirming his own quest for creative sublimity.
DVD
Lee Konitz, Bill Frisell, Gary Peacock, Joey Baron | Enfants Terribles
ENFANTS TERRIBLES features four veteran jazzmen whose collective efforts on stage and in the studio span decades. Together they are saxophonist Lee Konitz, guitarist Bill Frisell, bassist Gary Peacock and drummer Joey Baron; individually, each boasts a distinguished career path and network of associations representing jazz's wide range of stylistic directions. (Konitz alone began professionally in 1945.)
Recorded live at the Blue Note, ENFANTS TERRIBLES finds the group surveying tunes well-known to the jazz community, standards played and re-imagined throughout the years - "Body & Soul," "I Can't Get Started," "What Is This Thing Called Love" and "Stella By Starlight," among others. Though the repertoire is familiar, the renderings are new, a function of the collaborative spirit and interplay among these particular musicians. Their union evinces a strong sense of togetherness - the sum effect of a four-way exchange shaping artful creation.
Francisco Mela | Tree of Life
On his second release for Half Note, drummer Francisco Mela continues to fuse the rhythmic life force of his homeland Cuba, with the heat-seeking energy of modern jazz. He is known as a musician's favorite - he is a member of Joe Lovano's band, Us Five - because he boasts a passion and spirit rarely heard among young instrumentalists. Mela's group is named Cuban Safari, and it features sterling play from pianist Elio Villafranca, saxist Uri Gurvich, guitarist Ben Monder and special guest Esperanza Spalding. Polyrhythms notwithstanding, Mela's tender vocals will surprise all.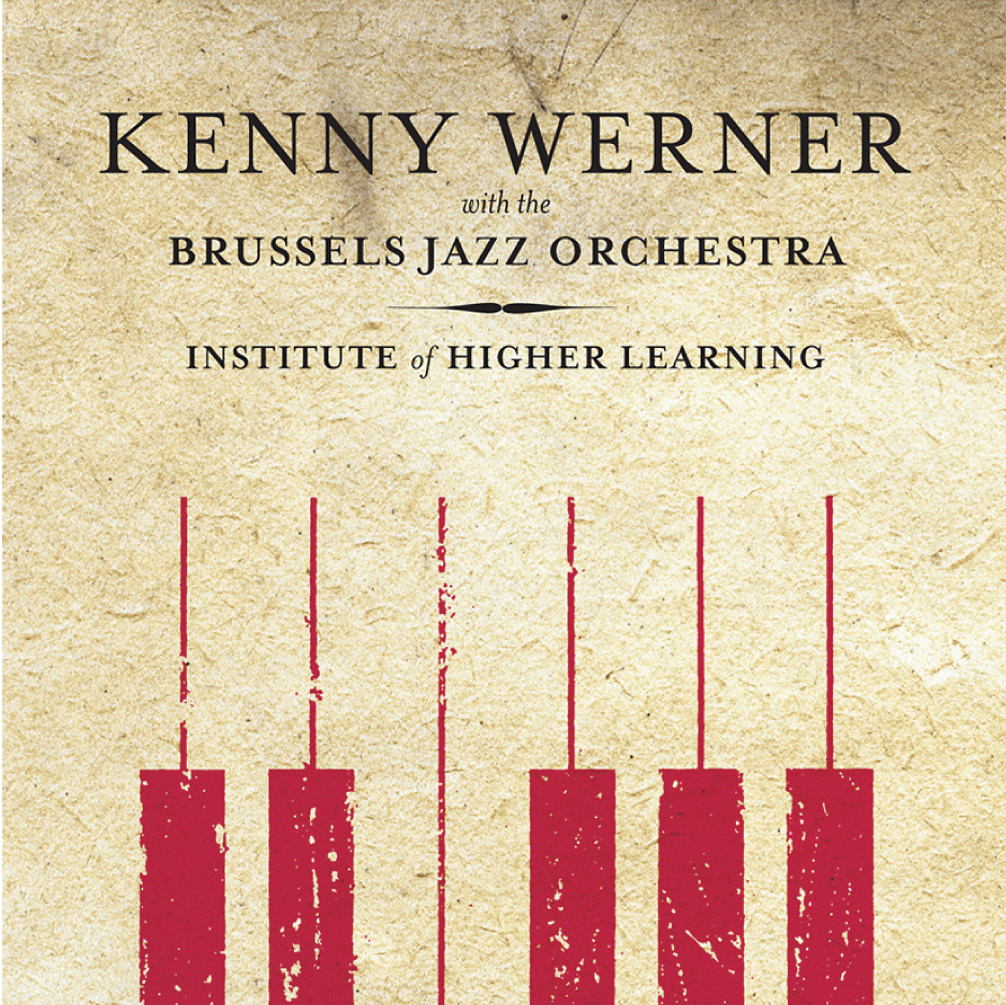 Kenny Werner & Brussels Jazz Orchestra | Institute of Higher Learning
Long regarded as one of Europe's premier big bands - a group that"manifests love," according to Grammy-winning arranger Maria Schneider - The Brussels Jazz Orchestra has joined hands with Kenny Werner to create a winning tableau of spirited writing and performance.
The Institute of Higher Learning features a sumptuous 3-part suite, "Cantabile," that reinforces in a singular way Werner's place among forward-thinking jazzmen. Textural, rhythmic, evincing cascading swirls of color, it was inspired by and dedicated to Bob Brookmeyer. The Brussels Jazz Orchestra rates beyond the level of any jazz orchestra in the world," says Werner. Led by reedman and group founder Frank Vaganee, the BJO offers a perfect canvas for Werner's painterly approach to composition and arranging.
Kenny Werner with Randy Brecker | Balloons
Kenny Werner assembles a sterling group of associates - Randy Brecker, David Sanchez,
John Patitucci, Antonio Sanchez - for an in-depth examination of four originals, all showcasing Werner's singular approach to composition and the group's approach to improvisation. The tracks are spirited, lyrical, possessing song-like qualities that evoke both a meditative air and the effortless whimsy of children at play. That these "children" are among jazz's greatest practitioners, and Werner among its most compelling conceptualizers, only underscores the sophistication of this record. The connections made here take us to a place where, as Werner puts it, "the music
essentially plays itself."
Conrad Herwig | The Latin Side Of Herbie Hancock
The music of Herbie Hancock re-imagined as you've never heard it. Conrad Herwig and his Latin Side band "Latinize" one of our greatest composers in an album that boasts magical contributions from special guests Eddie Palmieri and Randy Brecker. Recorded live at the Blue Note, The Latin Side of Herbie Hancock is a rollicking event, an adventurous foray into advanced writing and infectious rhythm. Notable among the tracks are Hancock's most famous tunes - "Cantaloupe Island," "Maiden Voyage," "Watermelon Man" - allrendered with winning elan. Few artists can endow highly recognizable tunes with a spirit of newness. Herwig, Palmieri and Brecker do just that, honoring the masterful Hancock and histimeless compositions. A crowd-pleasing performance; the fourth release in Herwig's "The Latin Side..." series.
Kenny Werner | No Beginning No End
Winner of the 2010 Guggenheim Fellowship Award.
Kenny Werner's magnum opus with Woodwinds, Voices & Strings. His deeply personal tribute to daughter Katheryn, a triumphant work of composed and improvised musics. Classical and Jazz. Performed by nearly 100 musicians. Highlighted by saxophonist Joe Lovano and vocalist Judi Silvano. No Beginning, No End is a milestone composition and recording - as much for its creative reach as for the emotional terrain it examines. "The most important music I'll ever write," is how Werner puts it. A career high point.
James Carter | Heaven On Earth
Saxophonist James Carter and organist John Medeski (of the pioneering jam-band, Medeski, Martin & Wood) lead a supergroup featuring Christian McBride (bass), Adam Rogers (guitar) and Joey Baron (drums). Together they carve out a groove that captures the buzz and vitality of jam-jazz at its most exhilerating. Recorded live at the Blue Note in New York, the group throws down the funk on Django Reinhardt's "Diminishing," Larry Young's "Heaven On Earth," Leo Parker's "Blue Leo," and the songbook standard, "Street Of Dreams."
RECORDED LIVE AT THE BLUE NOTE.
Piano legend McCoy Tyner offers 11 song-form vignettes, intimately rendered, before a rapt
audience at the Herbst Theater in San Francisco, during the Spring Season of SFJAZZ in
May, 2007. This is the third release on his own McCoy Tyner Music label.
The evening finds him reflective, treating his fans to a mix of originals and standards, delivered in a style as much thunder as mist. Stand out selections include "Naima," "You Taught My Heart To Sing," "I Should Care," "Sweet And Lovely," and "In A Mellow Tone." An excellent companion disc to his two previous MTM releases, Quartet and Guitars.
Dizzy Gillespie All-Star Big Band | I'm Beboppin Too
A spirited big band extolling the spirit and energy of jazz great DIZZY GILLESPIE. Long-standing associates James Moody, Jimmy Heath and John Lee mix it up with next-generation all-stars Roy Hargrove, Cyrus Chestnut and Roberta Gambarini, all under the musical direction of arranger Slide Hampton.
Charles Tolliver Big Band | Emperor March
Emperor March was recorded live at the Blue Note. It is an exhilerating recording, featuring
expansive, progressive arrangements and solos from Billy Harper, Marcus Strickland, Stanley Cowell, and the leader, among others. Tolliver, who earned a Grammy nomination with last year's big band record, showcases his writing, arranging and conducting skills, prodding the 19-piece band to step out boldly. It is an audacious performance, capturing all at the peak of their powers, clearly drawing inspiration from the energy and vitality of New York's foremost jazz club.
McCOY TYNER'S newest release and perhaps boldest outing yet, is GUITARS, a studio throw-down with five of popular music's most accomplished string specialists: DEREK TRUCKS, BELA FLECK, BILL FRISELL, JOHN SCOFIELD, MARC RIBOT. Assisting McCoy are trio mates, Ron Carter and Jack DeJohnette. With a song stack covering the old and the new ("My Favorite Things," Greensleeves," "500 Miles," Mr. P.C.," and numerous free improvisations), McCoy finds common ground alongside a group of handpicked guitar and banjo players. It's a meeting of the generations. Included, an interactive DVD, documenting the making of GUITARS, replete with studio performances, chatter, and viewer options for what to see, where to look.
Cuban-born drummer FRANCISCO MELA assembles a superior cast (Jason Moran, Lionel Loueke, Mark Turner and Larry Grenadier) for this live recording, his first, captured at the Blue Note. Together they make music informed by the rhythms of Mela's homeland, yet stylistically inclusive and adventurous in its reach. Mela is a favorite among jazz's elite instrumentalists, all of whom cite his charisma, sophistication, and life-affirming spirit. He brings to this impassioned performance compositions inspired by family – his recently departed father, his newborn son. In the process, he evinces a versatility rare among players. Francisco Mela represents a new breed of jazz cat, one steeped in the rich traditions of musical cultures from near and far, and one whose music confidently leads us onward.
The Delirium Blues Project | Serve or Suffer
Just think of it as a soundtrack for a seance - Roseanna Vitro on vocals, Kenny Werner on Ouija board.
THE DELIRIUM BLUES PROJECT throws the spotlight on blues-based material refracted through the advanced minds of writer/arranger Kenny Werner and vocalist Roseanna Vitro. The group is a powerhouse, featuring a cast of heavyweights: Randy Brecker, James Carter, John Patitucci, Adam Rogers, Ray Anderson, et al. Featured are tunes by Tower of Power, Tracy Nelson, Janis Joplin, Mose Allison, Esther Philips, Joni Mitchell, and Nina Simone. This is a genre-bending project, showcasing the shared DNA between blues and jazz.
RECORDED LIVE AT THE BLUE NOTE
McCOY TYNER one of the greatest names in jazz piano, and the last remaining member of John Coltrane's legendary aggregate, launches McCoy Tyner Music, a Half Note subsidiary dedicated to highlighting him in a host of creative situations and partnerships. QUARTET finds him in the company of JOE LOVANO, CHRISTIAN MCBRIDE, and JEFF "TAIN" WATTS - three power players whose incendiary passions ignite this live performance. Tyner is a path-finder, a monumental pianist whose music is rooted in bedrock. His play is a cornerstone in the edifice of modern jazz. This recording from New Year's Eve 2006, underscores why.
Conrad Herwig | Sketches of Spain Y Mas
As a follow-up to his Grammy-nominated album, "Another Kind of Blue: The Latin Side of Miles Davis," trombonist Conrad Herwig showcases his riveting integration of Afro-Cuban and Afro-Caribbean rhythms with "Sketches of Spain," the legendary collaboration between Miles Davis and Gil Evans. Herwig leads his nonet from the famed Blue Note jazz club stage in New York, inspiring spirited performances from trumpeter Brian Lynch and guest artists, saxophonist Paquito D'Rivera and flutist Dave Valentin. All romp through the album's masterwork title, as well as Miles' classics, "Solar," "Petits Machins," and "Seven Steps To Heaven."
Avishai Cohen | As Is...Live at the Blue Note
Bassist AVISHAI COHEN - considered a "genius" by former employer Chick Corea - waxes his first live outing, a stand-out performance featuring trio mates Sam Barsh and Mark Guilliana, plus guest soloists Jimmy Greene and Diego Urcola. This is a full-length DVD, documenting the group's live performance reprising his best compositions, augmented by artist interviews and behind-the-scenes footage. This dvd provides compelling evidence that Cohen - on acoustic and electric - is a group leader and instrumentalist at the head of the field. Special bonus tracks.
RECORDED LIVE AT THE BLUE NOTE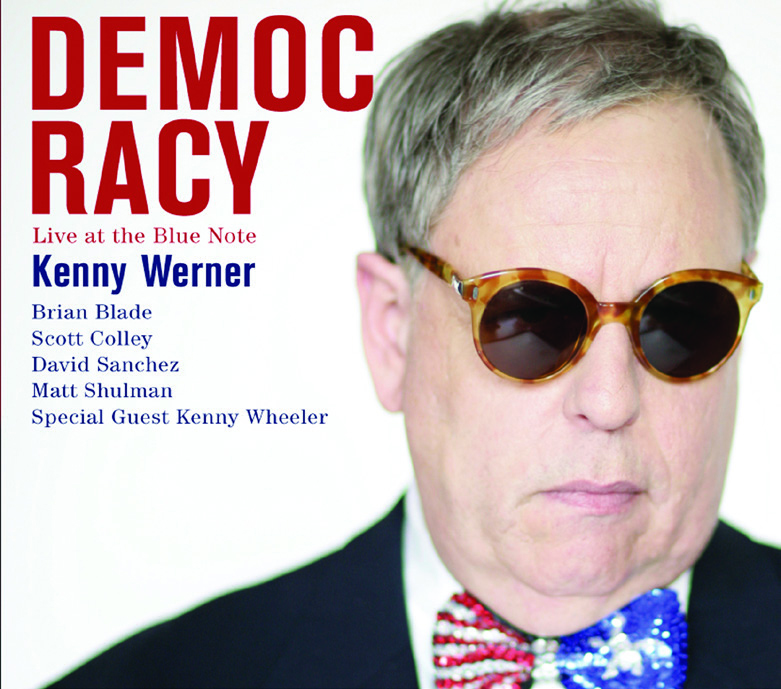 DEMOCRACY is KENNY WERNER'S second live album from the Blue Note in which he showcases his considerable talents as a composer, pianist and bandleader. It is a player's project on which Werner assembles a sterling cast of instrumentalists – Brian Blade, Scott Colley, David Sanchez, Matt Shulman and Kenny Wheeler – each of whom adds signature eloquence to four Werner originals, and one film classic, penned by John Williams ("Hedwig's Theme," of Harry Potter fame).
Democracy highlights the strength of this finely-tuned collective, while it serves as a statement of political purpose. It contains music consistent with Werner's guiding aesthetic - tuneful, sophisticated, heartfelt.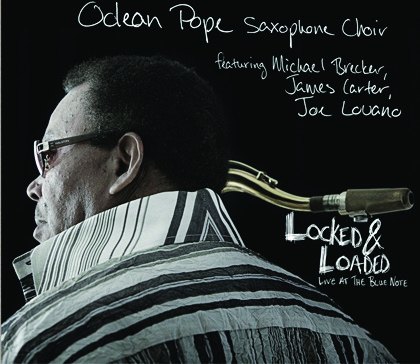 Odean Pope | Locked and Loaded
LOCKED & LOADED features an explosive choir of saxophones - augmented by special guests, MICHAEL BRECKER, JAMES CARTER and JOE LOVANO - surging through the progressive arrangements of Philadelphia legend Odean Pope, a comrade of John Coltrane. Pope is one of jazz's great figures, an under-appreciated writer and instrumentalist, whose conception regarding the expressive possibilities of the saxophone, alone and in various groupings, is unique among jazz arrangers. He is a favorite of jazz icon Ornette Coleman, who attended the recordings and contributed the album's liner notes. In the presence of saxophone heroes, special guests Brecker, Carter and Lovano soar.
Will Calhoun
| Native Lands
Jazz meets World meets trance-inducing Loop music.
This is a double package - CD/DVD - in which drum master Will Calhoun marries his far-reaching interests in a genre-bending collection that taps key expressionists from various musics. Among those contributing are Pharoah Sanders, Mos Def, Stanley Jordan, Marcus Miller, Nana Vasconcelos, Wallace Roney and Kevin Eubanks. Though he is best known as the drummer for Living Colour, Will is a world-savvy percussionist who creates ambient moods as well as grooves. The music features programmed drums and live play. The bonus DVD offers behind-the-scenes interviews, commentary, and studio footage.
Harrison, Carter, Cobham | New York Cool
Avatars of three successive generations - DONALD HARRISON, RON CARTER, and BILLY COBHAM - tap their vast reserves of harmony and groove for an interactive conversation that defines the art of jazz improvisation. Without the safety net of piano, this trio of saxophone, bass, and drums romps through a free-wheeling set of standards and originals - a high-wire act with exhilarating results. These guys are locked in, inspired by one another, stepping up and back with uncommon grace.
James Carter | Organ Trio
Think of this music as Avant-Roadhouse. Master saxophonist James Carter and his organ-based trio are rooted in a barroom esthetic. The rhythm section lays down a bluesy, funk, roots groove, over which Carter blows Extreme Saxophone.
What makes the date different is that baritone specialist Hamiet Bluiett goes head to head with Carter, while guitarist James "Blood" Ulmer steps in and out of the gut-bucket with signature wah-wah.
Punchy? Accessible? In your face?
Yes. Yes. Yes.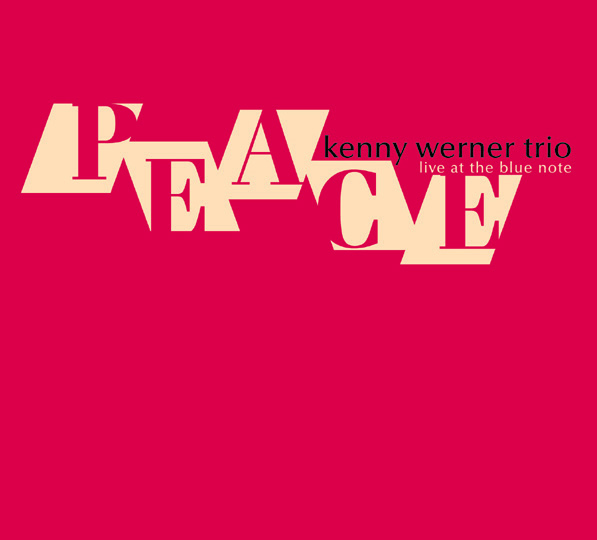 PEACE, KENNY WERNER'S first release for Half Note, reaffirms that every good piano trio, like any good marriage, is based on trust, mutual respect, and an uncommon degree of empathy and communication. Widely acclaimed for his reharmonizations and transcendent touch, Werner brings rare qualities to this performance: passion, elegance and self-reflection, all in the service of a unified group dynamic. Bassist Weidenmueller and drummer Hoenig provide stellar support. Selections include "Stella By Starlight," Wayne Shorter's "Pinocchio/Fall," the title track by Horace Silver, and originals "Jabali," "Chach," and "All Things Are You."
Jeff Watts | Detained at the Blue Note
DETAINED AT THE BLUE NOTE is the fiery Half Note debut of Jeff "Tain" Watts, the preeminent drummer of his generation. A veteran of groups led by countless jazz giants, including Branford Marsalis and Michael Brecker, DETAINED finds Tain leading a live date, a quintet of New York-based instrumentalists, all conspiring to showcase Tain's considerable skills as a leader and a writer. Among those showcased is Kenny Garrett, whose dynamism is captured up front and personal - easily, the best example of his incendiary horn play anywhere on record. Also featured, Dave Kikoski (piano), Marcus Strickland (tenor saxophone), David Gilmore (guitar) and Eric Revis (bass)..
Arturo Sandoval | Live at the Blue Note
LIVE AT THE BLUE NOTE is Arturo Sandoval's first live album in nearly 40 recordings. It is a double package - cd/dvd - capturing the buzz and electricity of this award-winning artist and showman. Neon buzz, heavy rhythm! Clearly, he has ascended to the throne previously occupied by Tito Puente. Playing trumpet, piano and timbales (along with issuing a vocalese tour de force), Arturo's musical abilities are in full flower. His dash and swagger - owing much to mentor Dizzy Gillespie - light up the room. This is a crowd-pleasing performance! The dvd is done documentary-style. It features the complete show coupled with interview footage.
Bill Evans Trio | Turn Out the Stars
Pianist Bill Evans waxed legendary recordings at the Village Vanguard. Three months before his death in 1980, he returned to the venerable club and captured a week-long engagement of performances - this time with his last great trio, bassist Marc Johnson and drummer Joe LaBarbara. TURN OUT THE STARS is a 6-disc box set that finds him revisiting repertoire he examined throughout his career, though now imagined with the heightened inventiveness and wisdom of his life in music.